neptunea admin
From the biggest and boldest yachts under construction to record-breaking builds, we take a peek into the sheds to see what the shipyards have in store for 2023…
Project 1601
Builder: Lürssen
Length: 90m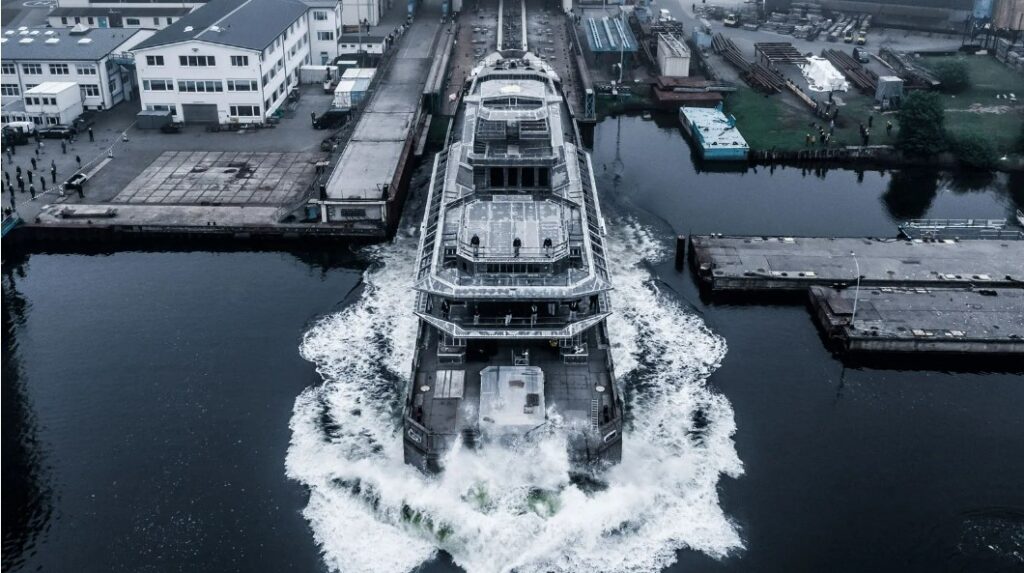 Credit: Tom van Oossanen
Project 1601 was last seen in May 2020 when she kissed the water for the first time at the Rendsburg shipyard in Northern Germany. Her warship-style exterior is reminiscent of Lürssen's iconic 71 metre SKAT, both of which share the same designer, Espen Øino. Interior design meanwhile comes courtesy of Dölker + Voges.
Project 406
Builder: Royal Huisman
Length: 52m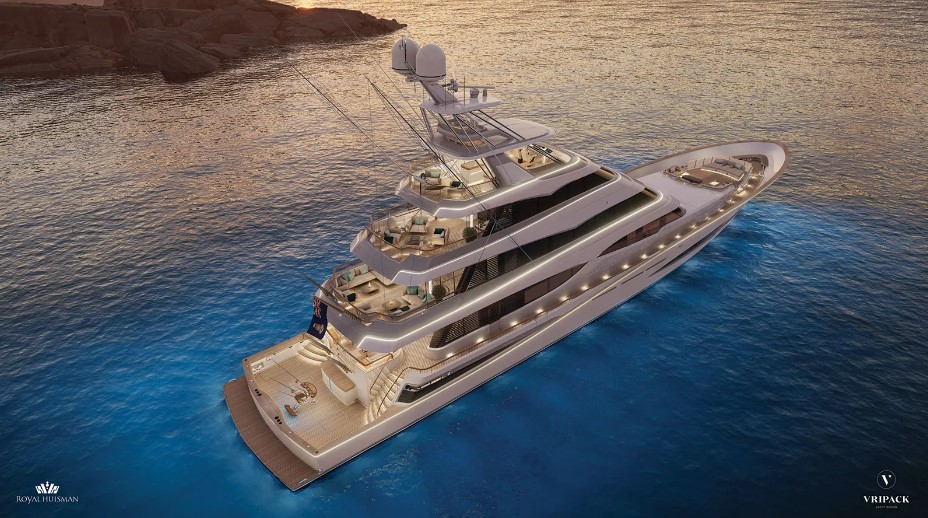 Project 406 is perhaps better known as the world's largest sportfish. Commissioned by a passionate fisherman and experienced yachtsman, the 52 metre superyacht is a 'sportfisher on steroids' designed for big-game, deep-sea fishing by Vripack. The project is defined by a towering profile spread across six decks with a long bow, high bulwarks, and a low and uncluttered fishing cockpit aft. Her aluminium hull was glimpsed in March 2022 as it was turned at Royal Huisman.
X-Space
Builder: Sanlorenzo
Length: 44m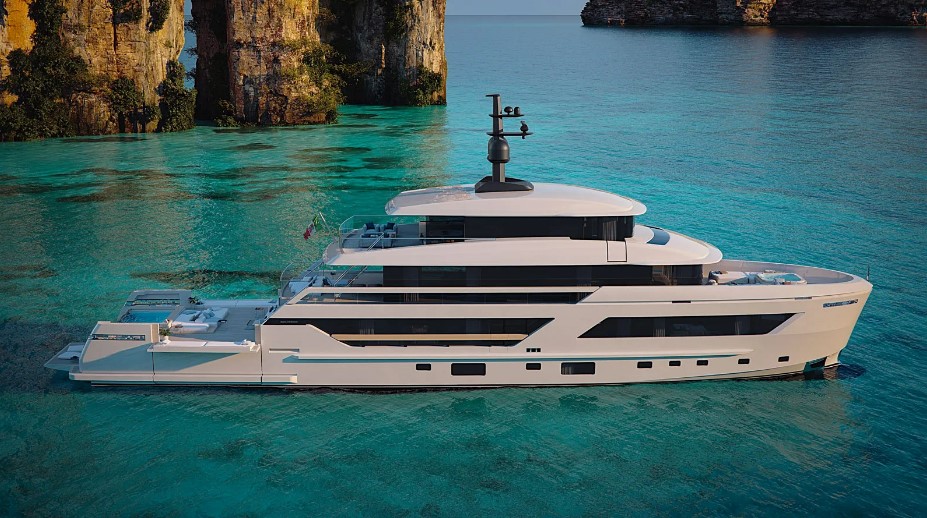 The 495GT X-Space is the latest explorer from Italian shipyard Sanlorenzo and toes the line between an explorer and a classic navetta. Spread over five decks, the X-Space features exterior design by Zuccon International Project with interiors by Piero Lissoni. Highlights include an 18-square-metre pool that sits laterally across the main deck and a private owner's apartment with access to a forward terrace in the bow. 
Abeking 6507
Builder: Abeking & Rasmussen
Length: 118.2m
Known only as hull 6507, the yacht will be the largest launch from the German shipyard yard when she hits the water in 2023, eclipsing the current flagship Aviva by an additional 19.8 metres in length. Designed by Joseph Dirand, highlights will include a semi-submerged Neptune lounge, as seen on another Abeking & Rasmussen build Elandess, and an expansive pool.
Feadship 823
Builder: Feadship
Length: 67.4m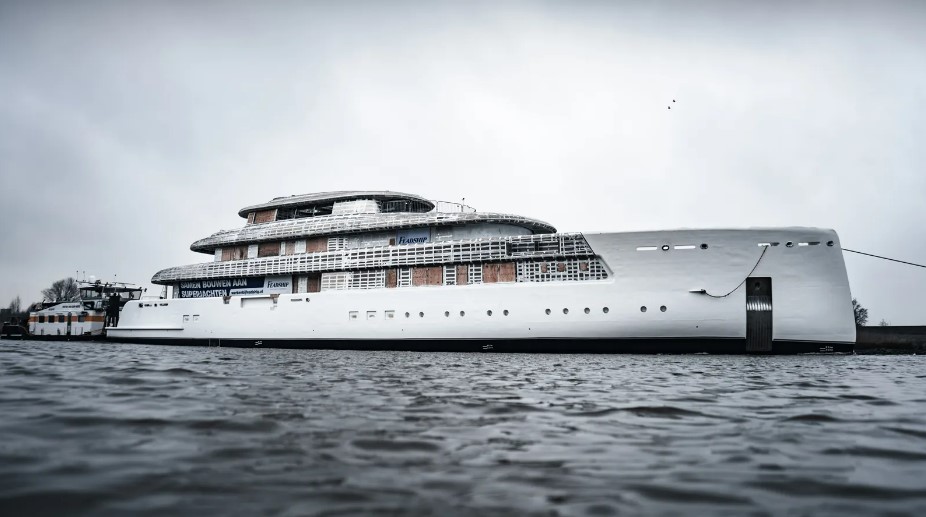 Credit: Ruben Griffioen
The Feadship superyacht, known only as Project 823, was glimpsed early in 2022 as she made her way through the Dutch canals en route to Kaag in the early hours of the morning. Very little is known about this secretive project – not even the designers have been revealed. It is one of several Feadship builds due for completion next year including hulls 710, 822 and two other unknown projects.
SeaXplorer 58
Builder: Damen
Length: 58m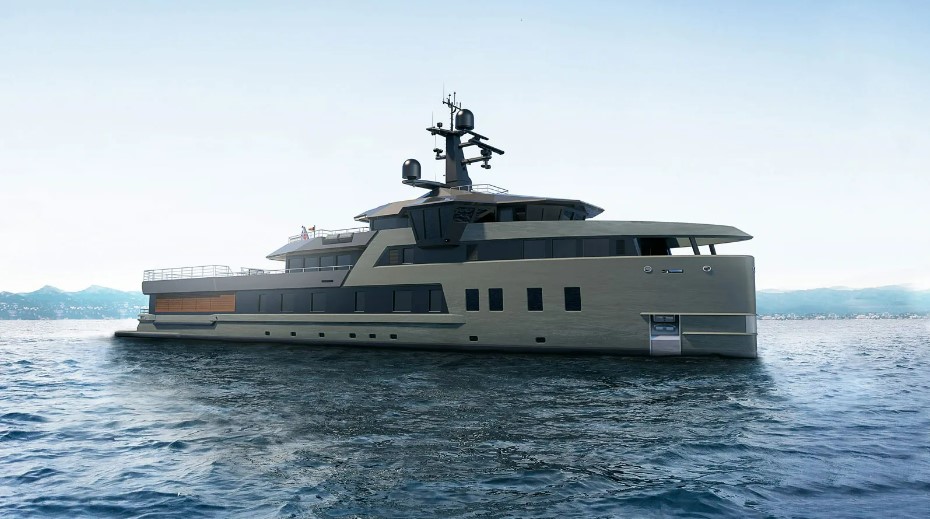 The Damen SeaXplorer 58 might be the smallest in the series so far but packs plenty into its 1,090GT footprint. An ice-class hull carries an 11.4 metre performance sailboat, two large tenders, road and off-road vehicles and a helicopter. The unnamed project was custom designed by Azure Yacht Design and Naval Architecture for an owner looking to circumnavigate the world and will join the 77 metre La Datcha and 62 metre Anawa.
Black Shark
Builder: Nobiskrug
Length: 77.1m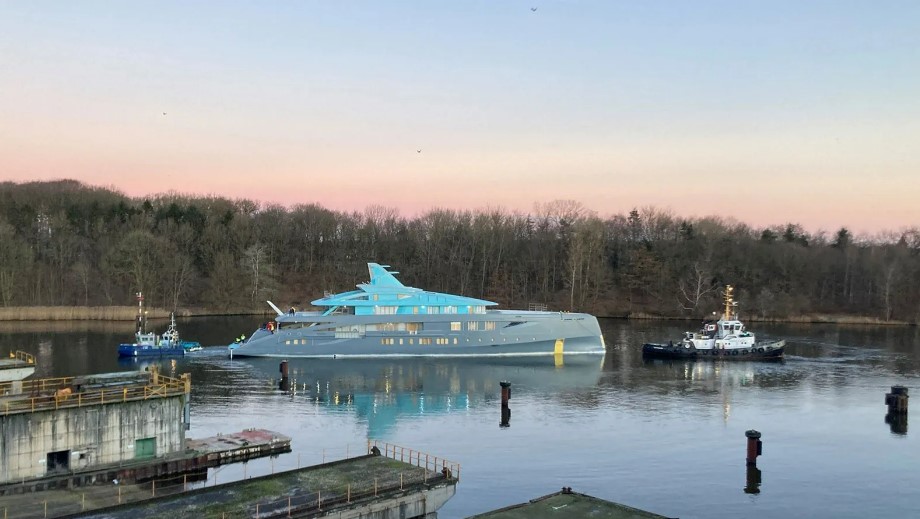 Project Black Shark – named for its dorsal fin-like mast – began construction in 2019, but work was put on hold when the German shipyard filed for insolvency. In March 2022, Nobiskrug confirmed that the contract had been renewed and construction was restarted. Her shark-like profile, with a distinctive reverse bow, is the work of Winch Design and will be finished in matte black. The dark colour will wrap around three decks while the superstructure will be painted in a "sporty" metallic silver to complement the mast.
Project SkyFall
Builder: Heesen
Length: 60m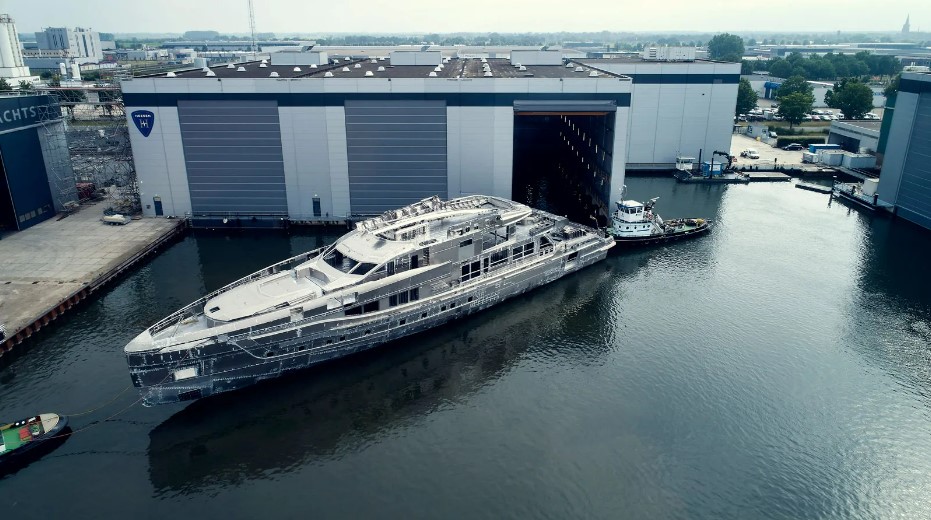 Project SkyFall has been described as a "sport fisherman in yacht disguise" and is complete with a fighting chair and storage for 40 rods. As the shipyard's most powerful project yet, the 60 metre project has a propulsion package totalling 22,000 horsepower, with four water jets and a top speed of 37 knots. Project Skyfall will be accompanied by a custom Vanquish tender.
Project JAG
Builder: Lürssen
Length: 122m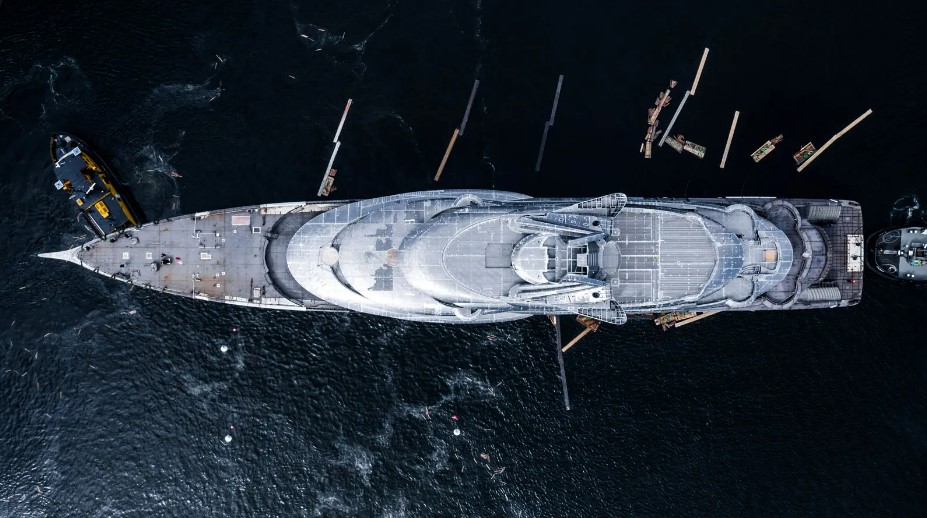 Commissioned by a repeat, experienced client as a replacement for his 96 metre superyacht, Project JAG is the owner's third Lürssen. At 122 metres in length, the project is one of the largest superyachts currently under construction and was sold by Moran Yacht & Ship in 2019. Exteriors were designed by Nuvolari Lenard while interiors are courtesy of Reymond Langton and described as a "beautiful bespoke homage to the owners lifestyle." There will be two staff for every guest on board.
Y1050
Builder: Oceanco
Length: 105m
Soon to join the exclusive 100-metre-plus club is Oceanco's elusive Y1050. Very few details are known about this project other than its length. Even by the standards of the superyacht industry, secrecy has been absolute, with not even a photograph slipping through the net. Y1050 will be the seventh yacht over 100 metres delivered by Oceanco, joining the likes of Infinity, Kaos and Bravo Eugenia.
Alia Sea Club
Builder: Alia Yachts     
Length: 52.5m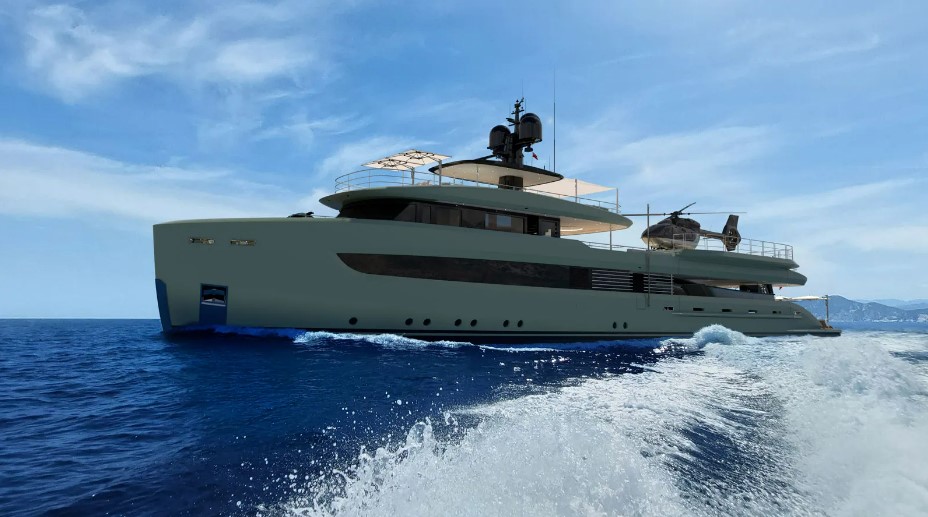 The Alia Sea Club has been designed with exploration in mind and features a fully-certified helideck as well as expansive storage for an inflatable water park. Dutch studio Azure Yacht Design has penned interiors and exteriors of the 499GT superyacht, with naval architecture by Diana Yacht Design. The yacht will carry a 13 metre guest tender, an 8.2 metre crew tender, a submarine, two wave-runners, two sailing dinghies and two sailing catamarans in a covered tender bay on the main deck.
Maverick
Builder: CdM
Length: 44.3m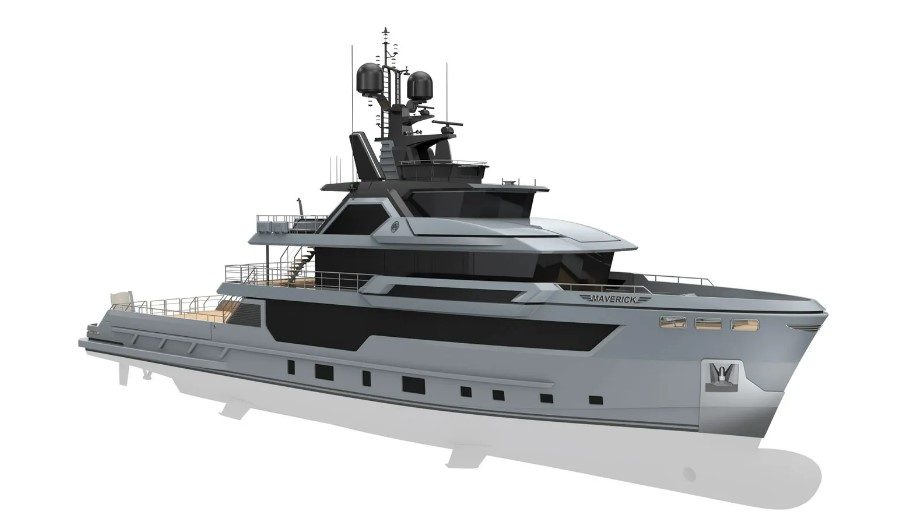 Maverick is the second in CdM's Flexplorer line and the first of three Flexplorer 146 units currently under construction at the Italian shipyard. The model was commissioned by an experienced owner looking to explore the higher latitudes and take on the Northwest Passage with his family in tow. Highlights include a huge A-frame crane on the aft deck, as seen on the first Flexplorer 130 Aurelia, and a crow's nest.
Project Luminance
Builder: Lürssen     
Length: 145m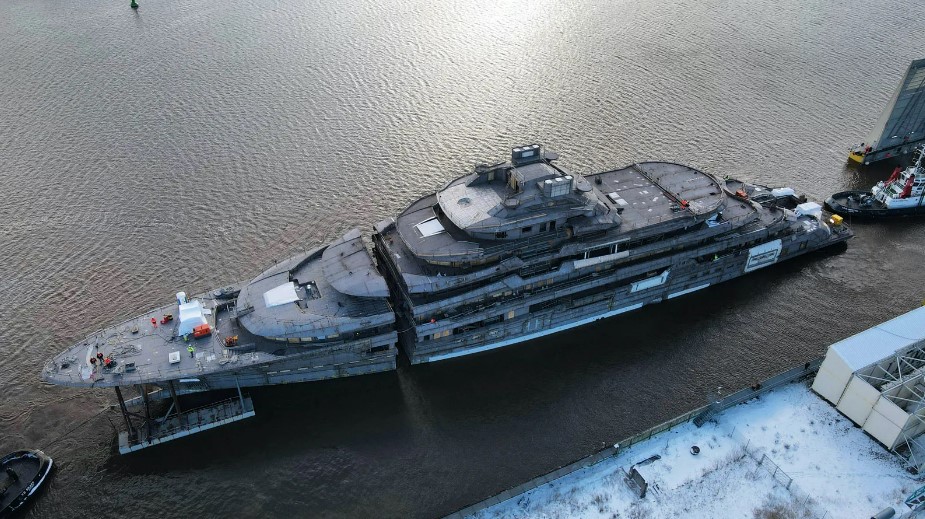 Credit: Dr Duu
Another powerful-looking Lürssen yacht with classic raked bow and a high, brooding superstructure. She looks like she runs to seven or even eight decks, if you include a small recess in front of the mast that looks designed as an observation point. Otherwise, very little detail has escaped about this yacht.
GTX116
Builder: Pershing
Length: 35m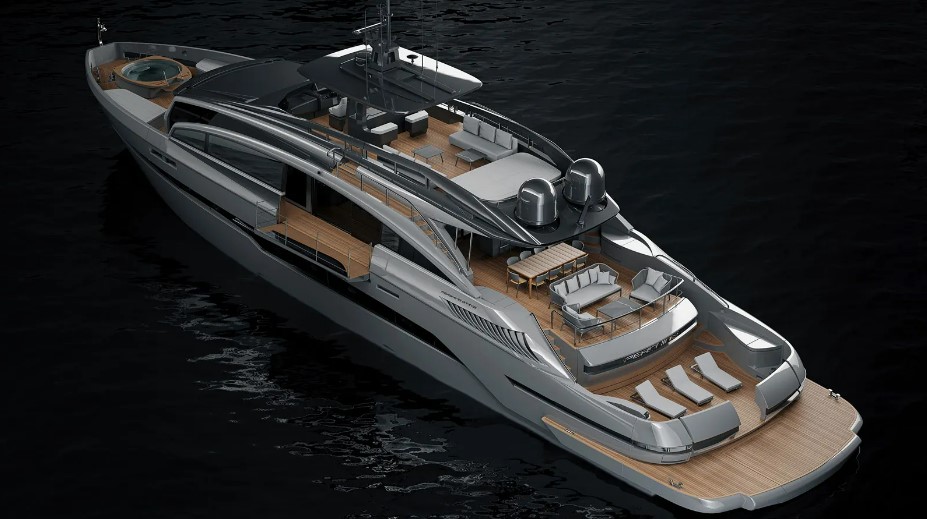 The Pershing GTX116 is the first of a new line of sports utility yachts by the Italian shipyard. Hull number one, sold to an American owner, was seen for the first time in October 2022 as it wound its way through the narrow streets of Italy en route to Ferretti Group's Mondolfo shipyard. A 38-square-metre beach club is attached to an electro-hydraulic taffrail that opens up to connect the beach area with the swim platform, creating a waterfront lounge area. Above, a 41 square metre sun deck crowns the flagship of the GTX series.
Project Fox
Builder: Pendennis
Length: 35m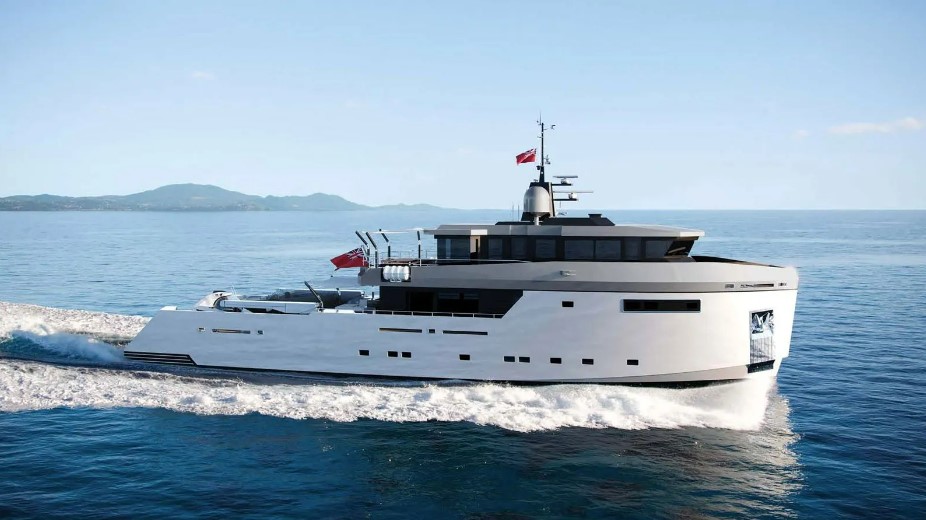 Designed as a compact explorer to take adventurous owners off the beaten path, Project Fox will "represent the very best of British engineering and interior design," according to Pendennis. Key features of the 295GT motor yacht include an expansive 103.5-square-metre open aft deck capable of storing a pair of 7.5-metre tenders, plus the option of submersibles, Jet Skis and any other gadgets and toys the owners fancy. Interiors by Q London are pared back with Chevron oak flooring throughout. Bonus features include a DJ station, a glass-walled sky lounge and a dedicated wine fridge.
Project 3090
Builder: Vitters   
Length: 59m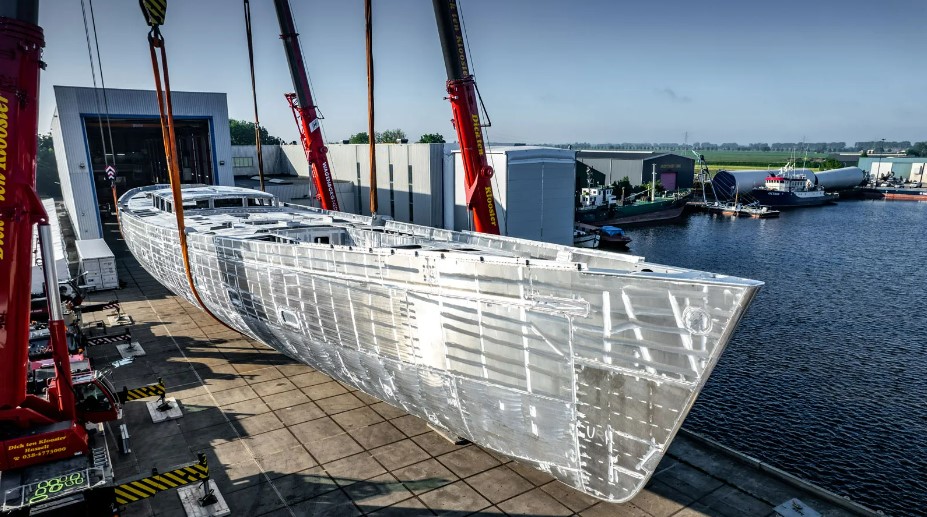 Credit: Guy Fleury
The 59 metre Project 3090 is a ketch-rigged performance cruiser currently under construction at Vitters. Her profile is the work of Germán Frers and her flush deck and raised deckhouse were glimpsed for the first time as she briefly left the construction shed in 2022. Once on the water, Project 3090 will slot in underneath the yard's flagship 85.9 metre Aquijo and 66 metre Anatta to become its third largest launched yacht.
Moonen 110
Builder: Moonen
Length: 33.87m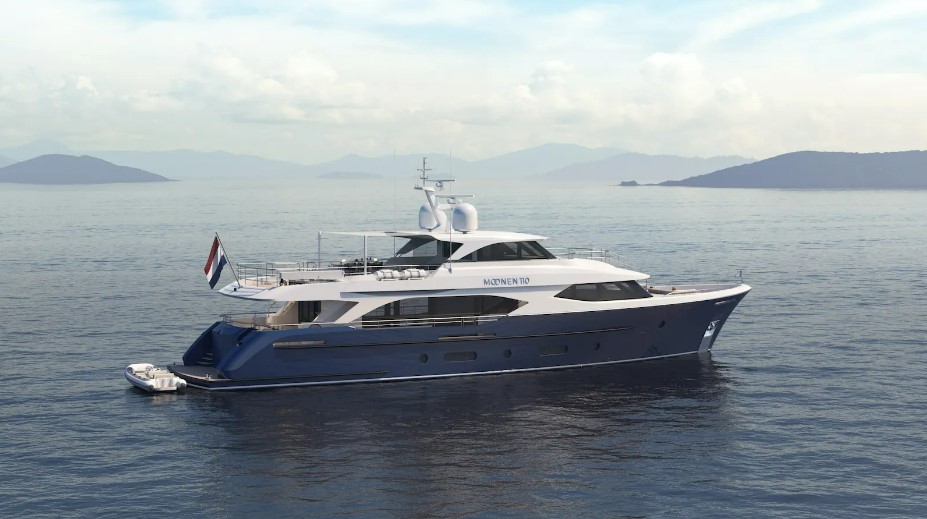 The Moonen 110 is its Dutch shipyard's take on a contemporary gentleman's yacht. Taking shape at the yard in Den Bosch, the Moonen 110 borrows design cues from the Moonen 84 and 97 models with exteriors by René van der Velden and naval architecture by Diana Yacht Design. London-based Studio Indigo is helming the yacht's interior with a sweeping spiral staircase using fluted natural timbers at the heart of the design.
Project Sparta
Builder: Heesen   
Length: 67m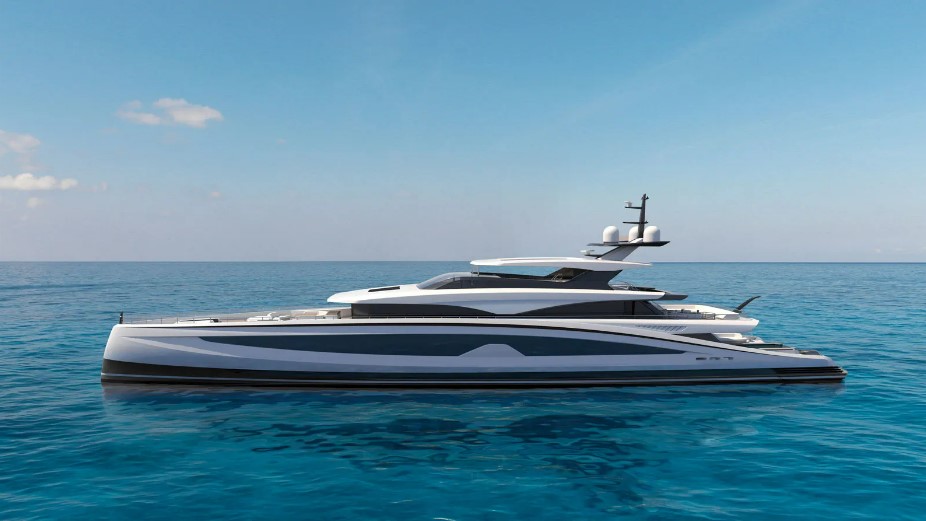 Project Sparta is based on the yard's 66 metre Project Avanti, which was first presented at the Monaco Yacht Show in 2018 and caught the eye of its commissioning owner. The 1,200GT project has been designed inside and out by Winch Design and is characterised by an elegant sheer line, raised pilothouse and stepped aft deck area.
Project Icecap
Builder: Lürssen
Length: 107m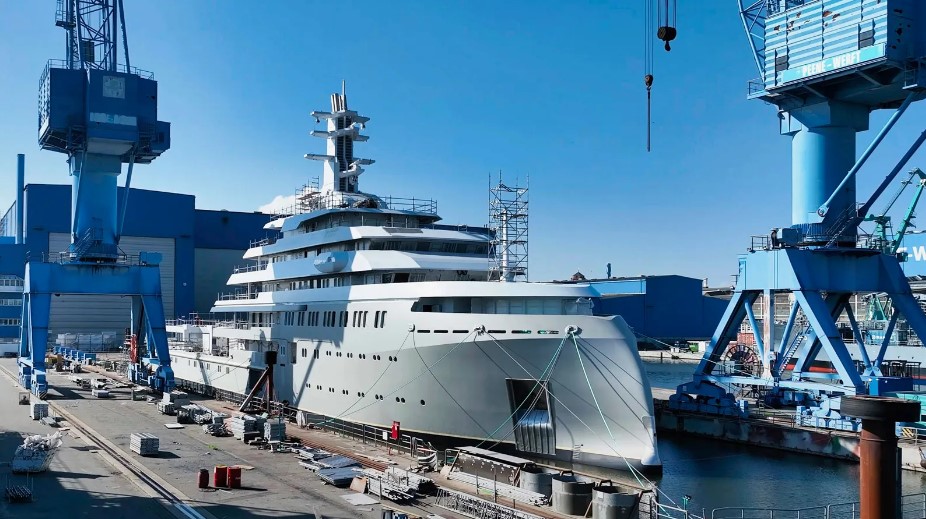 Credit: DrDuu
When she was revealed last summer at Lürssen's Wolgast yard, it was clear that Icecap was shaping up to be a very capable explorer yacht. With an axe-style bow and the superstructure well forward, the yacht should punch safely through big seas, while offering big cargo-carrying capacity on the open aft deck. Owner's rep Moran Yacht & Ship described the boat as diesel-electric powered. An ice-classed hull, heli-hangar and forward observation lounge are also on the spec sheet. The owner was Canada's seafood mogul, John Risley, but it may have changed hands.
Atlantique 47
Builder: Columbus Yachts
Length: 43m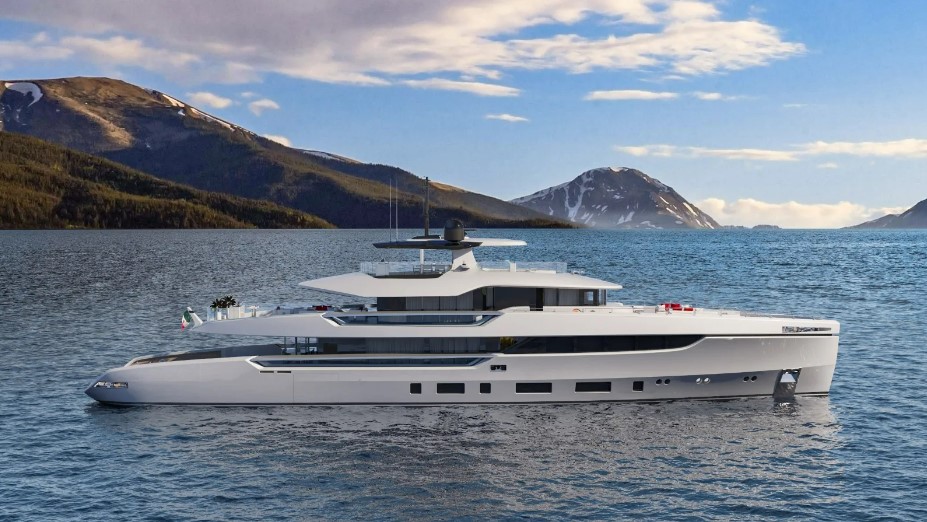 For the Atlantique series, Hot Lab borrowed inspiration from Italian supercar design for a low-profile superyacht line that brings the decks closer to the water. There are three hulls due for delivery in 2023, the largest of which is a 47 metre with two swimming pools – one on the upper deck and one down on the swim platform – and an open-air beach club. The first to splash will be the Atlantique 43, which is set to debut at Cannes Yachting Festival 2023.
NB724
Builder: Freire  
Length: 112m
Another top-secret build currently under construction is the 112 metre explorer NB724. The 6,950GT steel project was first seen as it was sent down the slipway at the Friere shipyard in July 2021. It is understood that the yacht is designed inside and out by Bannenberg & Rowell Design while naval architecture is penned by Marin Teknikk AS.