Gozzo 35
neptunea admin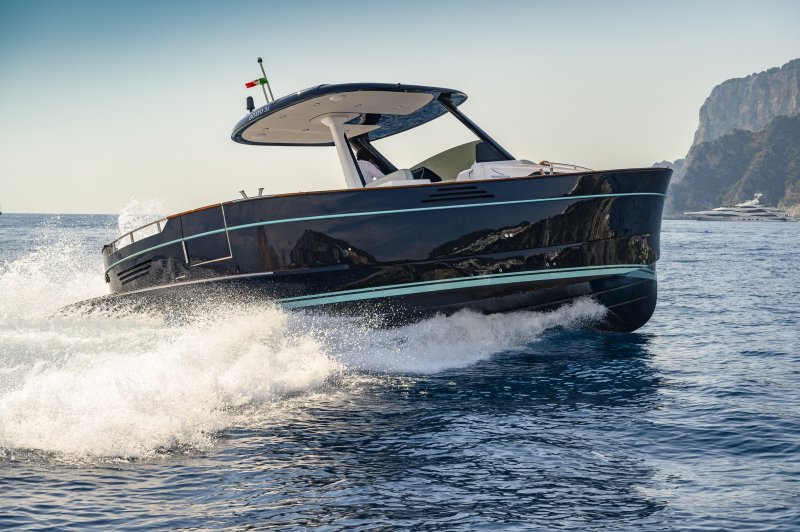 The Apreamare Gozzo 35 is a boat ride equipped with comfortable spaces on deck where you can enjoy a pleasant meal and sunbathe in its large solarium. With a length of 9.95 meters and a sleeve of 3.50 meters, this new version has T-Top, which allows the installation of two solar tents, one in the bow and one in the stern, to offer a complete shadow. The T-Top stand is integrated in the kitchen furniture equipped with a sink and a refrigerator. Barbecue or induction plates can be installed in the kitchen furniture, as well as an additional refrigerator and an ice machine.
The lower deck offers an open space cabin with a double bed in the bow, cabinets and furniture with leather inserts and a bathroom with a generous independent shower. The style of the interiors recalls the brightness of the Mediterranean architectures and there is a possibility that the shipowners customize the colors of the skins, as well as the types of wood and the decoration. All with one purpose: to create a unique and exclusive product for them.
The Gozzo is back, to write a great new story!
Specifications
L.O.A: 11.20m/36.9ft
Hull Length: 9.95m/32.8ft
Waterline Length: 9.64m/31.8ft
Max beam: 3.70m/12.2ft
Depth: 0.90m/2.11ft
Engines: 2* VOLVO PENTA D4-270 DPI and 2*VOLVO PENTA D4-270 SHAFT DRIVE
Max Speed: 32 kn/29 kn
Cruising Speed: 27 kn/24 kn
Lightship: 7.0 ton.
Displacement (fully laden): 9.0 ton.
Max number of persons on board: 14
CE Category: B
Certification module: A1
Features